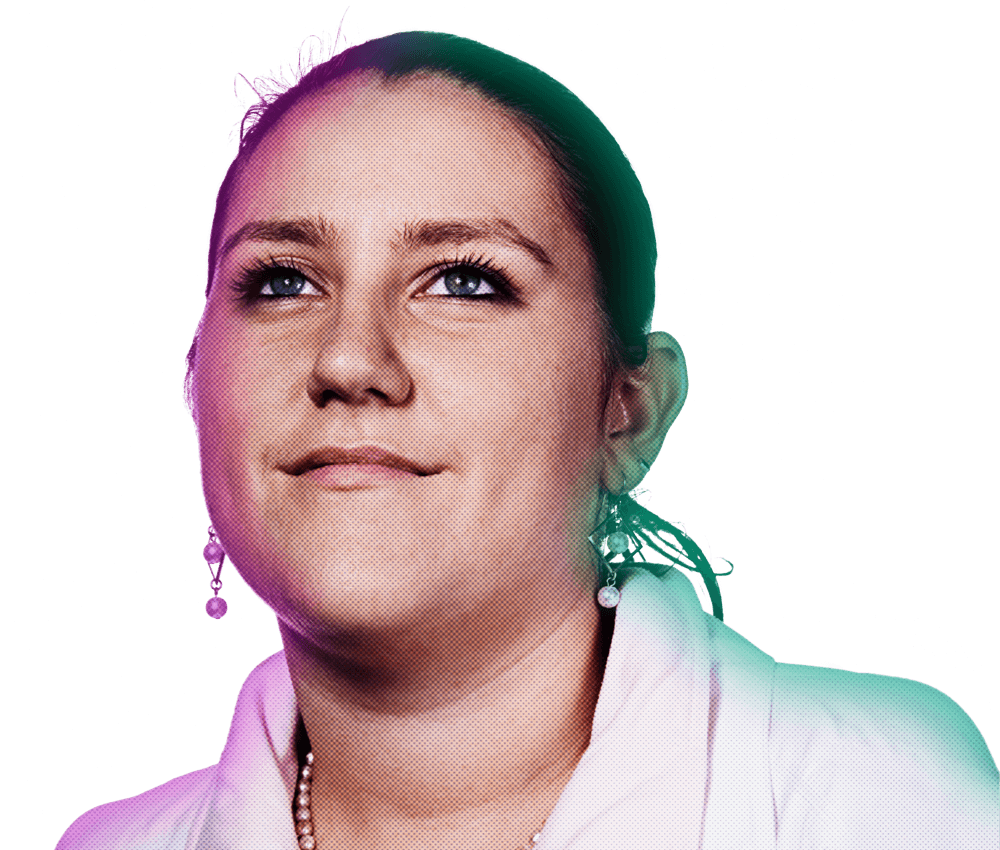 A Collective Act of Courageous Imagination™
PUBLIC EVENT – THURSDAY, APRIL 27 – RSVP BELOW
Doors Open at 2:00 PM / Starts at 2:15PM – 4:45PM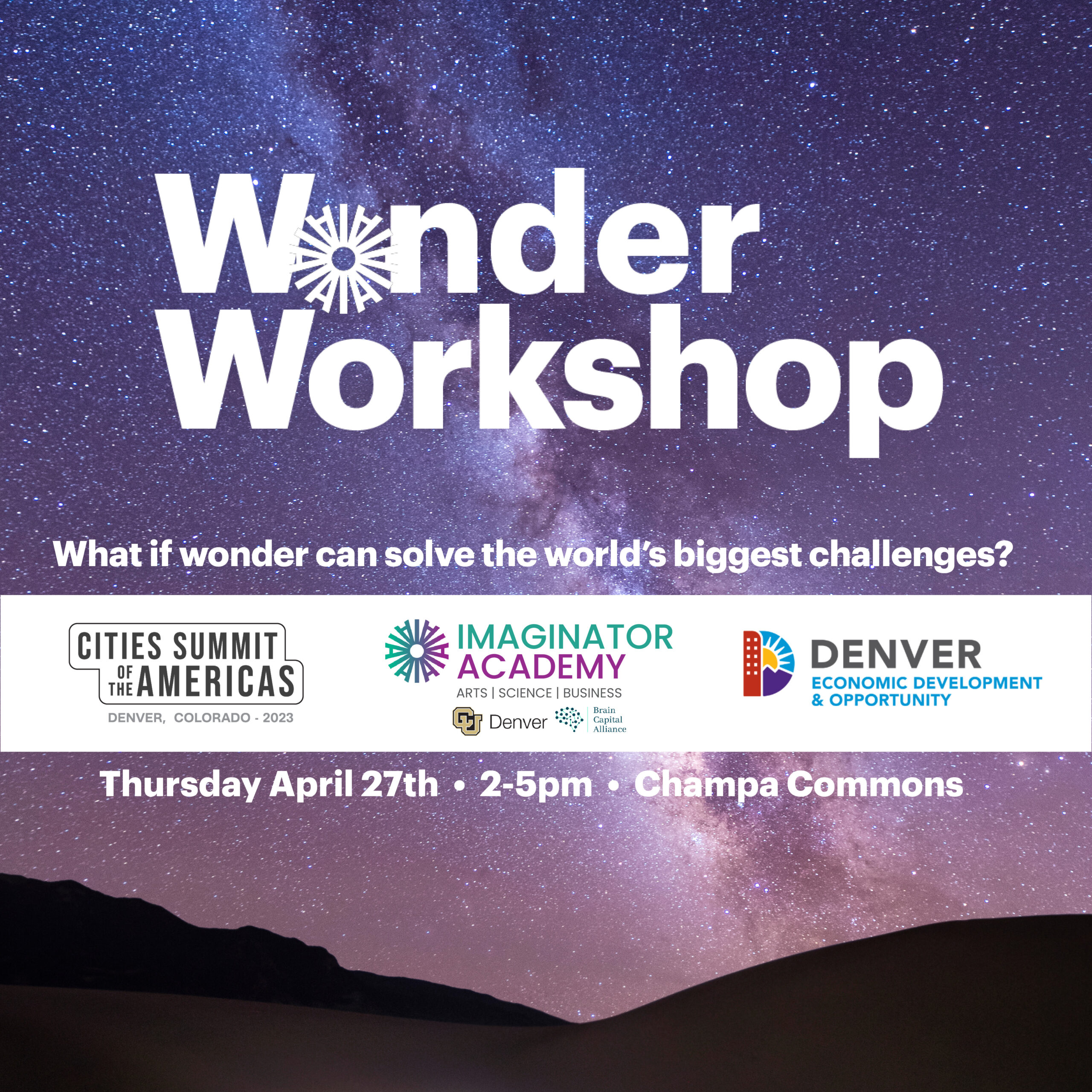 About
Join world-class scientists, artists, entrepreneurs, and futurist municipal leaders for a one-of-a-kind, hands-on workshop exploring how to design brain-healthy cities with a sense of wonder, creativity, and social well-being.
Who Should Attend
Artists, People in Health & Wellbeing Research, Creative Industries, Corporate Social Impact, City Planning / Economic Development
Limit
75 People to Sign Up (RSVP Link Here)
Agenda
Part One will kick things off with a welcome video message from Johns Hopkins' Susan Magsamen, co-author of the New York Times bestseller "Your Brain on Art."
Part Two features a talk with world-renowned composer, sound artist, and percussionist Susie Ibarra, who will share her research on rhythm in nature and her upcoming book on soundscape ecology. Ibarra will also offer a sneak peek into her upcoming "sonic opera" in rural Colorado for Summer 2024.
Part Three, Culture Futurist™, Theo Edmonds, will give an interactive presentation on how Denver is intentionally building a strategy to position itself as a global training hub for corporate creativity in the future of work.
Finally, participants will experience a Sensory Cityscapes interactive workshop, exploring how cities can be imagined differently to create a brain-healthy workforce to engage the five senses.
Wonderneering: Our Workshop Agenda
Just like engineers are needed to build bridges across rivers, wonderneers are needed to build bridges to the future. Imaginator Academy sees this as our role at the University of Colorado Denver. Fueled by the urban energy that surrounds us in the heart of downtown Denver, CU Denver partners with learners and leaders of all kinds to design accessible educational experiences, solve grand challenges through innovative research, and uplift economies and communities. 
Together with our global development partners in the Brain Capital Alliance, CU Denver's Imaginator Academy invites you to journey with us in a mind-expanding workshop combining art, science, and business. Participants will use the concepts of wonder, awe, curiosity, creativity, and play to design a future city.
GATHERING OUR MIND TOOLS
Part One: 2:15 PM – 2:30 PM
Welcome video message from Johns Hopkins Susan Magsamen – one of the coauthors of the new NYT bestseller list books, Your Brain on Art
Part Two: 2:30 PM – 3:15 PM 
Artist talk by composer, sound artist, and percussionist

Susie Ibarra sharing research on Rhythm in Nature

and her upcoming book on soundscape ecology of rhythm in geophony, biophony, and anthropophony

Discussion on Ibarra's rhythmic research and discoveries in the field and studio explorations

Announcement of a "sonic opera" event by Ibarra with the San Fransisco Girls Choir taking place in Summer 2024 in Northwestern Colorado
Part Three: 3:15 PM – 3:45 PM 
Interactive Presentation by

Culture Futurist Theo Edmonds™

on

why Denver will become America's next research and training hub for creativity

Discussion on how culture transformation and innovation are linked
Evidence-based insights from diverse research fields exploring what makes Denver's sense of wonder unique, including:

How identity fuels innovation and shapes  our collective "social brain"

What leaders may accidentally miss in the interaction between creativity and well-being that produces a city's brain capital

Why the art and science of measuring/using Courageous Imagination is a competitive advantage

Unexpected ways GenZ is changing the future of work

What quantum physics, stardust, and economic systems have in common
Building Wonder: 3:45 PM – 4:45 PM
Sensory Cityscapes: Designing Brain-Healthy Cities with the Five Senses (+1) 
This workshop explores how cityscapes would be different if we designed cities through our five senses. Participants will be guided through a series of exercises that will encourage them to think about how urban environments can be designed to engage with the senses differently and how this can create more brain-healthy cities.
Workshop Outline:
Poem + Introduction to "Cities of Wonder" exercise  
Introduce the concept of designing cities through the senses

Explain the goals of the workshop
Sensory Exploration 
Divide participants into small groups
Each group will be assigned a sense to explore (sight, hearing, touch, taste, smell) (another group will be created to develop a concept of a "sixth sense"
Participants will be asked to brainstorm ways in which their assigned sense can support brain health and then incorporate their sense into a novel urban design idea
Each group will present their ideas to the larger group
Interactive Design
Using the ideas generated in the sensory exploration exercise, participants will be asked to design a "city brain health dashboard" – data metrics that would let residents know that all five (+sixth) senses were being successfully engaged and supporting human creativity in our "cities of wonder" Each group will present their design to the larger group
Wrap Up
VENUE CHANGE:
Approximately 5m Walk from Champa Commons to the CU Denver Gallery
Out of Many, More: Voices of the Americas
(ART EXHIBITION OPENING)
Location: CU Denver Experience Gallery 
Information:
Co-curated by CU Denver students and will feature artists with cultural ties to countries participating in the Summit. Our opening will be Thursday, April 27, from 4-6pm. CU Denver College of Arts & Media singer-songwriter students will also perform new original work at the opening. Several of the artists will be there, along with a good group of CU Denver students. 
Exhibited Artists
Quintin Gonzalez, CU Denver faculty

Chelsea Kaiah, Ute and Apache/Irish settler

Kristina Maldonado-Bad Hand, Sicangu Lakota and Cherokee from Taos, NM

Rafael Maldonado-Bad Hand

Steven Yazzie, Laguna Pueblo and Navajo Nation

Alejandra Abad, Venezuela & CU Denver adjunct

Diego Zavala, Zapopan, Mexico, CU Denver Comexus Scholar

Gregg Deal, Pyramid Lake Paiute

Camila Galofre, Columbia and Ecuador

Eugene Tapahe, Navajo Nation

Suchitra Mattai, Indo-Carribean

Victor Escobedo, Mexican American